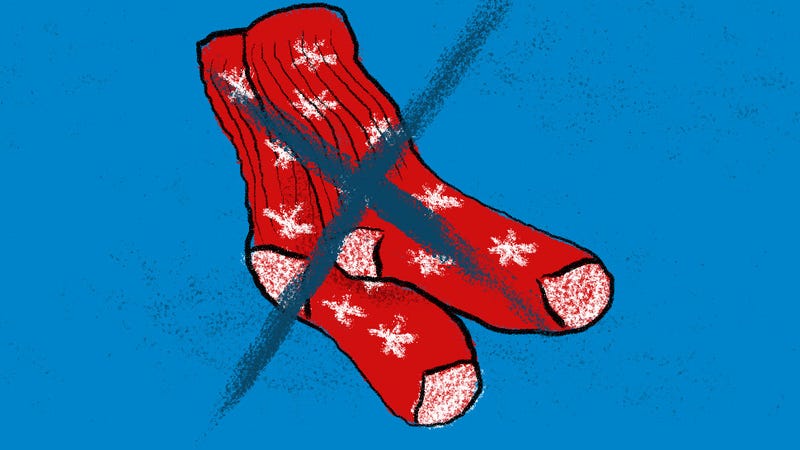 Do you want some too-small, last-season sweater for Christmas? No? Then why on earth would you subject your loved ones to similar crappy gifts? Running around the mall on Christmas Eve trying to pick up the latest must-have gadget because you don't know what else to get the people on your list is a waste of time and money. Instead, use these tips to organize your shopping list and develop timeless shopping shortcuts.
Traditional Inefficient Gift: Scarf, basket of soap and lotion, socks.
Why You Should Skip It: Not only are these classic "parent gifts" impersonal and unnecessary (trust me, anyone who wants a basket of lotion already has a basket of lotion), acquiring them is time-consuming — they're usually picked up during a frenzied last-second trip to the mall, a time-management nightmare.
What You Should Get Them Instead: If you're genuinely unsure of what your parents would actually want for Christmas (and let's be honest, a lot of us are), pick up a present they can use to access the things they like — like a Roku 3 streaming video player or a Sirius satellite radio starter kit. You can order all of them online on your tablet, cutting out the need for mall runs and other time-wasting activities. Plus, it's almost guaranteed that you won't have to return it later. And who knows — once they start using your gift, you might finally find out what your parents are actually into, which will be helpful next year.
Traditional Inefficient Gift: Desk toy, monogrammed stationery.
Why You Should Skip It: Giving gifts to a boss can be a fraught situation to begin with — you don't want to seem overly familiar, but you don't want to come off as uncaring, either. These novel gifts can make it seem like you're overly familiar and have no idea what your boss is like as a person — the worst possible combo.
What You Should Get Them Instead: Watch your boss's routine and see what they might genuinely need to streamline their work routine. Keep a file on your Surface Pro 3 that notes the problems your boss seems to run into over and over again throughout the year — dried up pens or lost cell phone chargers, for example — then pick a present that solves that problem, like the cord-free phone charging Powermat. This not only guarantees a gift your boss will actually use, it's also a neat way to show that you're playing close attention at work.
Traditional Inefficient Gift: Cute baby outfits, baby toys.
Why You Should Skip It: While your friends would certainly appreciate these gifts, what they need most of all is time (just like you... only way, way more so).
What You Should Get Them Instead: A gift that helps them make the most of the little time they have, like a month's worth of Blue Apron food delivery, or a gift certificate for a housecleaning service Homejoy. This also saves you time, by cutting out shopping variables like colors and sizes — one size of home cleaning definitely fits all.
Traditional Inefficient Gift: Wine, candy, gourmet food basket.
Why You Should Skip It: Acting like you're old friends isn't the way to get into the good graces of your super or handyman.
What You Should Get Them Instead: You might feel the urge to gift your super something that feels more holiday spirit-y than a wad of bills, but stick with cash — etiquette dictates anywhere between $50-100. If you feel tacky giving just cash, give them a container of holiday cookies, and also cash. There's no need to get fancy, though — your standard holiday card with money enclosed is the perfect gift for the person who helps you when your drywall gets crumbly.
Traditional Inefficient Gift: Whatever you got for 50% off on Black Friday.
Why You Should Skip It: Sure, jewelry can help a busy spouse remember you when you're apart — but it's not half as useful as something that actually connects you two.
What You Should Get Them Instead: A piece of technology that'll help you keep in touch as your better half trots the globe. Pick up a Microsoft Surface Pro 3 — it won't add extra bulk to their luggage, and it can function as both a tablet and a notebook, so they can use it for video chats as well as business-meeting note-taking and everything else you'd do with a laptop. To personalize it, download a season of their favorite TV show (you know, the one they haven't had time to watch this year because they've been so busy traveling).
Gabrielle Moss has written mostly funny stuff (but also some serious stuff) for GQ.com, The Hairpin, Nerve, etc. You can follow her here.
This post is a sponsored collaboration between Microsoft and Studio@Gawker.